WWW sites, WWW authoring and webdesign:
→ See full article
E-mailing

is a modern approach to your customers. It is fast, it is easy and it enables you to keep your customers up to date with your offers in very inexpensive way.


Active

propagation is crucial, if you want to win over your competitors. You need to show your goods to your customers, you need to keep them aware that you are the merchant who meets their needs.


Graphic impression

of your advertisment must not be underestimated. People always think better of things that look visually attractive. Do not send text offers that will be deleted and forgotten. Scrive your name into your customers memory with striking design of your e-mail offers!


Act today

, we are more than happy to assist you! Leave the technical details to us, let us guide you through the whole process and focus on your business. Contact us!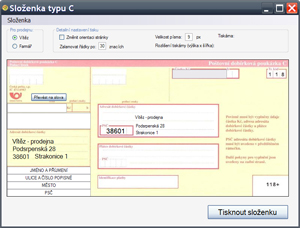 Specialized tools

, that provides exactly the one function they were designed for, are developed on customers request.


Office and administrative work

consumes a lot of your timer. Our tools are meant for high volume processing. A typical example is daily filling in of forms for expedition company or post office. Dedicated tool for their printing simplifies the task. All the information can be comfortably entered through the intuitive user interface. Such information might be archived or processed further.


Advantage

of these specialized tools is mainly in their benefit of everyday usage and low purchase expenses.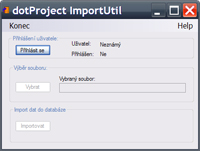 Applications for

maintenance of higher data volumes are designed according to customer's request. Their usage is adjusted to given environment, for example: Call center receiving orders of customers needs to enter and submit the order fast and in efficient way. Only few clicks are necessary to accept one order and whole processing of phone call can be done in less than two minutes. Orders can be exported to various formats and imported into your accounting software.


Sustaining

of data in many different formats complicates their integration and usage. If you find yourself in need of data conversion or even data management system for more effective usage of your time, contact us.


Server applications

for planning and production can be fed with data with minimal effort. Keep in mind that every step that can be automated, should be automated. Save your time and be more effective in your business!


Advantage

of using specific database application is higher speed of processing and better reliability of results.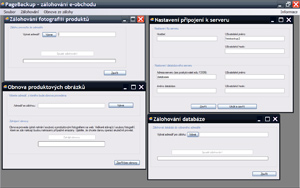 Backup applications

can help you, if you maintain data that are changed frequently - storage information, orders, contacts, product information, invoices. Do not threaten your business by such trivial and common problem as a hardware damage.


Usage

is simple and is adjusted for intuitive control. Whole software configuration requires approximately five minutes.


Advantage

of backup solutions lies mainly in the possibility to revert to particular state of data in past. There are several options for backup solutions - you can keep safe your databases, images, texts or whatever you need. Additional modules can be always developed to meet your needs.

Warranty management

is usually simple task, but it tends to overwhelm you inconspicuously with paperwork. But it is so easy to avoid that and deal with such task efficiently!


Our software tool

is designed for distributed environment. More users can maintain and work with data related to warranties.


Advantage

of our application is mainly the lower expenses for administration and labour. When customer calls you on phone, you do not need to list through papers or books, because integrated search feature makes the whole process so simple!